How Are Cumulative Injuries Compensated?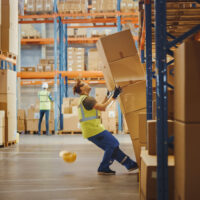 If you work for someone else in California and you are hurt on the job, you are entitled to workers' compensation benefits. When you're hurt in an accident, like falling off a ladder, the injury and the compensation are clear: You broke your leg, you get coverage for your medical treatment and lost wages while your leg heals.
What happens when the injury or illness develops over time? Can you recover for hearing loss caused by loud equipment, or for a back injury made worse over time by lifting heavy boxes? Read on to learn about how workers' compensation applies to cumulative injuries in California, and call our seasoned California workers' comp attorney for help with a cumulative injury workers' comp case.
Cumulative Injuries Are Covered By Workers' Comp
Cumulative injuries are ailments that develop over time, as opposed to injuries that occur in a single, traumatic incident. Knee problems that develop because of overuse, for example, would be considered a cumulative injury.
California's workers' comp rules state that you are entitled to workers' comp so long as your injury happened on the job. If the injury is cumulative, however, how can you show that it happened at work? If you have tennis elbow from working construction, but you also play tennis on the weekends, are you still entitled to workers' comp?
According to California's workers' comp rules, you are entitled to compensation for cumulative injuries so long as your work at least partially caused your injuries. If your job involves a lot of lifting and twisting your body, your doctor can confirm that such activity contributed to your lower back issues. Even if you also play sports and engage in other strenuous activities in your free time, so long as it's clear that your job contributed to your injuries, you can recover workers' comp.
Common cumulative injuries that occur on the job include:
Carpal tunnel
Asbestos-related illnesses
Hearing loss from noisy equipment
Eye damage caused by bright or radioactive materials
Back pains
Knee injuries
Tendonitis in the knees or shoulder/rotator cuff
Tennis elbow and golfer's elbow
Raynaud's syndrome
Cumulative Injuries are Fully Compensated
Because cumulative injuries can be caused by a combination of work-related conduct and activities outside the workplace, many workers are concerned about the apportionment of injury and how that might affect workers' comp benefits. Do you have to prove the exact percentage of the injury that was caused by the job as opposed to leisure activities?
Thankfully, you do not have to prove just how much of your injury was caused by work. In California, if you can prove that your injury was at least partially caused by your job, you get full workers' compensation benefits. Your benefits depend on the severity of your injury, the medical costs you incur, the time you miss from work, and other factors. They are not calculated based on the proportion of your injury that was caused by work.
In order to maximize your benefits, it's important to act quickly and to work with a seasoned California workers' comp attorney. You might still have trouble proving that your injury is work-related, or that medical care is tied to that injury. With help, you can get the care you need and the coverage you deserve.
If you suffer a work-related cumulative illness or injury, you need thorough, dedicated legal help to maximize your compensation. The experienced California workers' comp legal team at Invictus Law is ready to help. We're board-certified specialists in workers' compensation. You don't have to pay unless we recover on your behalf. Call us today for a consultation.