Occupational Diseases and Workers' Comp in California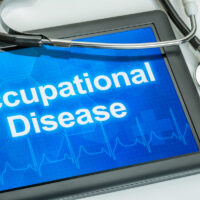 The most common workers' compensation cases are also the most clear-cut: A piece of equipment fails, a delivery vehicle crashes, a buzz saw breaks, or a person slips and falls, and they are injured at work. These workers are clearly entitled to workers' compensation. But what happens if the cause is more subtle? What if you contract an illness at your workplace from exposure to chemicals or due to physical activity conducted as part of your job? Are you entitled to workers' compensation? Learn below how California's workers' compensation scheme handles occupational diseases, and contact a dedicated Southern California workers' compensation attorney if you need help with a workers' compensation claim on behalf of yourself or a deceased family member.
Common occupational diseases
The short answer to the question above is, yes. If you suffer from an illness or disease that is brought on by performing your job or by exposure to something in your workplace, you are entitled to workers' compensation.
Occupational diseases often involve the following:
Cancer
Asthma
Lung disease
Cancer
Brain damage
Carpal tunnel syndrome
Radiation poisoning
Asbestos
Skin disease
Pesticide exposure
A variety of workplace conditions can cause these illnesses: Miners who spent a lot of time underground breathing in coal dust may suffer from lung disease. Factory-workers exposed to toxic chemicals or hazardous radiation may contract illnesses as a result. Farmers who use harmful pesticides may become ill. Buildings that are not up to current code, or were not previously, may have asbestos lurking in the walls that can lead to mesothelioma.
Compensation for occupational illness
If you contract one of these illnesses because of your workplace rather than your home, then it is a workplace injury, and you are entitled to compensation. To seek compensation as a federal worker, you must file a Notice of Occupational Disease and Claim for Compensation, and you must notify your employer and complete all necessary sections of the document before submitting it to the U.S. Department of Labor, Office of Workers' Compensation Programs. In California, you must file your claim within 30 days of discovering your illness. If you wait longer than 30 days, you will need to provide a good explanation for the delay.
You will also need to provide medical records and other proof of the condition and provide evidence that you contracted the illness at work. A dedicated workers' compensation attorney can help you build your strongest case for compensation and ensure that you follow all legal formalities to maximize your coverage. Workplace disease can be challenging to prove, and having a seasoned workers' compensation lawyer in your corner from day one can make all the difference.
CALL THE WORKERS' COMPENSATION ATTORNEYS AT INVICTUS LAW IF YOU GET A WORKPLACE DISEASE IN SOUTHERN CALIFORNIA
If you have a claim for workers' compensation and want to make sure you get the maximum available coverage, call Invictus Law today at 949-287-5711, and speak with an experienced California workers' compensation attorney to evaluate your claims.