Does a Small Business Need to Carry Workers' Comp Insurance for Its Workers?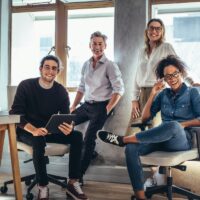 Workers' compensation insurance protects workers in the event of a workplace injury. If an employee is injured on the job, the employer's workers' comp insurance will cover medical expenses, lost wages, disability benefits, job replacement benefits, and other costs related to the injury. California requires employers to carry workers' compensation insurance for the benefit of workers.

What if, however, the company is a small, family-owned affair? Do the same workers' comp rules apply? How big does a company need to be for the workers' comp requirements to kick in? Read on to learn about how California workers' comp laws apply to small businesses.
Any Employer With At Least One Employee Needs Workers' Comp Coverage
California law is extremely friendly to and protective of workers. Workers' compensation is meant to protect workers at companies of all sizes, large or small. All employers in the state must carry workers' comp insurance for the benefit of employees, even if they have only one employee.
In fact, even out-of-state employers may need to purchase in-state workers' comp insurance if they have any employees who work regularly in the state or if they enter into an employment contract in the state.
Employers can obtain insurance either through a licensed insurance company or through the State Compensation Insurance Fund. Employers can also satisfy their workers' compensation requirements by becoming self-insured. Specific rules, approvals, and net worth/income minimums apply for self-insurance.
Exemption: Sole Proprietors With No Employees
There is one exception to the general rule that all California employers must carry workers' comp: Sole proprietorships. Sole proprietors who have no employees are not required to obtain workers' compensation insurance for themselves. They can choose to do so, which would render the company's policy liable for the sole proprietor's injuries, although it may or may not be advisable to do so.
As soon as the company hires an employee, even on a temporary basis, they must acquire workers' comp coverage. If you work for a small company, regardless of whether you are temporary, part-time, or even a family member of the owner, you are entitled to workers' comp coverage. Employers must cover the cost of workers' comp coverage themselves; they cannot ask employees to help cover the workers' comp premiums.
Invictus Law, P.C. is an Orange County and Inland Empire workers' compensation law firm specializing in representing Southern California's injured workers. We strive to help clients get the care they need to obtain the best recovery possible and get on with their lives.