What Are OSHA's Fatal Four?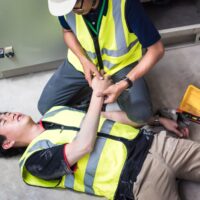 Construction is a dangerous business. Construction accounts for upwards of 20 percent of all workplace fatalities in the United States, even though construction workers make up only six percent of the workforce. In 2020 alone, over 1,000 construction workers were killed in on-the-job construction accidents.
The Occupational Safety and Health Administration (OSHA) compiles statistics on workplace injuries and fatal accidents, including the most common types of accidents. OSHA identified the top four construction hazards that lead to workplace fatalities each year, which OSHA historically dubbed the "Fatal Four." The Fatal Four account for more than 60 percent of all construction fatalities annually. Continue reading to learn about the top causes of construction fatalities and OSHA's recommended prevention measures.
Falls
The single biggest cause of construction fatalities is accidental falls. A third of all construction fatalities result from falls, meaning that preventing falls could save more than 300 lives each year. Falls include slips and falls as well as falls from scaffolding, ladders, and other high places.
To prevent falls and limit the danger, OSHA has several recommendations including:
Use personal fall arrest equipment
Install and properly maintain perimeter protection (guard rails, etc.)
Use scaffolds and ladders safely and in accordance with OSHA regulations
Cover all floor openings and ensure that such openings are clearly labeled
Struck by Object
Rolling, falling, swinging, or flying objects injure thousands of construction workers every year. Loose equipment, building materials, machine parts, and other objects can quickly become dangerous and deadly when dropped from a height. Struck-bys also include being hit by heavy machinery such as cranes.
To avoid struck-by accidents, OSHA recommends workers never position themselves between moving and fixed objects and always wear high-visibility clothes near equipment and vehicles. Workers should always wear appropriate personal protective equipment (PPE) such as helmets and goggles, and all workers who operate machinery should be appropriately trained. Only qualified, trained individuals should operate hazardous machinery.
Caught in/Between
Caught in/between accidents refer to accidents in which a worker is pinned between two heavy objects, such as a piece of machinery and a structure, or injured due to trench or excavation cave-ins. Caught in/between accidents can easily lead to severe injury, including loss of limb, and they are often fatal.
Among other safety measures, OSHA specifically recommends that workers never enter unprotected trenches or excavations five feet or deeper without an adequate protective system in place. Even trenches under five feet may benefit from such a system. OSHA also recommends that trenches or excavations are properly protected either by shoring, sloping, benching, or trench shielding. Workers are also advised to avoid being positioned between a moving and a fixed object.
Electrocutions
Electrocution accidents round out OSHA's Fatal Four. Electrocution can happen via exposure to loose wires or other electrical sources, or through contact with a metal object (such as a ladder) that touches a source of electricity. Electrocution can lead to severe burns, internal organ damage, and fatal injury.
OSHA recommends workers identify all utilities on or near work sites before starting work. Look out for overhead power lines whenever operating equipment, and keep a safe distance from those power lines. Electrical tools must be grounded or double-insulated. Workers on scaffolding, ladders or other metal surfaces should be mindful of any sources of electricity.
OSHA also recommends using ground-fault circuit interrupters.
If you've been seriously hurt at work, you need tried and true legal help to maximize your compensation. The seasoned California workers' comp legal team at Invictus Law is ready to help. We're board-certified specialists in workers' compensation. You don't have to pay unless we recover on your behalf. Call us today for a consultation.