What is a Predesignated Personal Physician?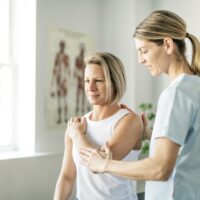 If you are hurt on the job in California, you are entitled to workers' compensation coverage. Your medical costs will be covered by your employer's workers' comp insurer, and you are entitled to a portion of your lost wages as well as certain other benefits. Many workers understand that they are entitled to coverage for medical care, but they are not sure how much freedom they have regarding the source of that care. Are you allowed to use your own doctor, or does the workers' comp policy decide who treats you? Do you have to switch primary care physicians every time you get a new job? In California, you are entitled to be treated by your own doctor, as long as you predesignate your physician.

Get Treated by Your Doctor
In California, employees have the right to choose their personal physician to treat them in the event of a workplace injury. Your employer's workers' comp policy will be required to reimburse you for work-related medical care just as if you were treated by a doctor recommended or assigned by the employer's healthcare plan. However, in order to use your own physician, you must "predesignate" that physician as your treating doctor in the event of a workplace injury. Your doctor will be established as your predesignated "personal physician."
Your "personal physician" can be an individual doctor or a medical group, subject to certain requirements and limitations. A personal physician must be properly licensed under the Business and Professions Code. Chiropractors and acupuncturists are not eligible for predesignation. However, if you do give your employer the name of your chiropractors or acupuncturist, you may be able to switch to their care after seeing the physician assigned to you by your workers' comp claims administrator.
How to Predesignate Your Doctor
You are not entitled to a doctor of your choice unless you predesignate your physician with your employer and workers' comp plan. If you do not predesignate a personal physician, you will be assigned a physician or given options by the claims administrator.

To be treated by your personal physician, you must satisfy certain requirements:
1. You must notify your employer in writing of your predesignation before the injury occurs
2. You must have your own insurance coverage for non-work injuries or illnesses
3. Your physician must have previously acted as your primary care physician and agree to retain your medical records
4. Your physician must agree to be your treating physician for a workplace illness or injury
One of the easiest ways to ensure predesignation is to fill out form 9783 and provide it to your employer. The form asks for all requisite information concerning your physician. The bottom of the form has a place for your physician to sign, proving that they have agreed to be your physician in case of workplace injury. While this particular form is not required, it is an easy way to ensure you satisfy all relevant requirements for predesignation.
If your employer or workers' comp insurer is denying you coverage, you need talented legal representation on your side. We're board-certified specialists in workers' compensation. You don't have to pay unless we recover on your behalf. Contact Invictus Law today for help.