What Constitutes an Unsafe Work Environment?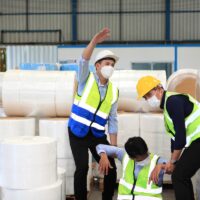 California workers have the right to be free from unsafe working conditions under the California Occupational Safety and Health Act of 1973. California's Division of Occupational Safety and Health (DOSH), better known as Cal/OSHA, protects workers from unsafe workplace conditions by issuing and enforcing safety standards, conducting inspections, providing outreach and education, and issuing licenses, permits, and approvals.
If your workplace is unsafe, you have rights as a California employee. Continue reading for a discussion of unsafe work environments, and call on knowledgeable California workers' compensation attorneys for help if you are worried about an unsafe work environment or if you've been hurt at work.
What Does Cal/OSHA Require?
The safety laws and the regulations issued by Cal/OSHA demand that California employers provide their employees with a safe workplace environment. Expected safety precautions vary depending upon the nature of the worksite, the nature of the job, and other factors. What would constitute the bare minimum of safety at a construction site, for example, would be unnecessary at a retail store.
In general, employers have an obligation to keep the workplace appropriately safe. Employers may violate Cal/OSHA rules if they, for example:
Fail to provide proper safety equipment appropriate for the job, including helmets, face masks, gloves, eye goggles, and other protective gear
Fail to conduct proper safety training for workers and supervisors
Fail to properly evaluate the workers' risk of exposure to chemicals, toxins, and other dangerous materials at the workplace
Fail to properly store hazardous materials such as chemicals and toxins
Force or allow employees to work in extreme heat and other hazardous conditions
Fail to ensure machinery and other equipment is equipped with proper guards and safety measures
Allow warehouse goods to be stacked in an unsafe manner, or permit warehouse aisles to become overly cluttered
Let untrained, unqualified workers operate machinery such as forklifts and tractors
Fail to implement and conduct training with regard to proper fire safety protocols
Fail to post OSHA job safety notices in the workplace
Refusal to Work and Cal/OSHA Complaints
If you are experiencing unsafe working conditions, you have the right to refuse to work. Workers can refuse to work if the following is true:
The worker has a reasonable and good faith belief that a certain condition or hazard puts their health or life in unreasonable and substantial danger
The employer is unable to or refuses to remedy the danger
The immediacy of the danger makes it unsafe to wait for a Cal/OSHA investigation
The worker does not have a reasonable alternative to refusing to work
Typically, before refusing to work, the employee should report the hazard to the employer in order to have the problem remedied. If the problem does not present an imminent danger, a written report is appropriate and the worker can continue to work until the problem is fixed. If the hazard presents a clear and imminent danger, the worker can request an immediate remedy.
Should the employer refuse to or fail to fix the problem, the worker can file a complaint with Cal/OSHA. Workers can ask to be kept anonymous when filing a complaint to protect against potential retaliation. Talk to a seasoned California workers' compensation and worker rights attorney before filing a complaint to ensure you appropriately explore your options.
If your employer has subjected you to unsafe working conditions, or if you have any other questions about your workers' compensation claim, you need experienced legal representation on your side. We're board-certified specialists in workers' compensation. You don't have to pay unless we recover on your behalf. Contact Invictus Law today for help.