How Does Workers' Comp Work in California?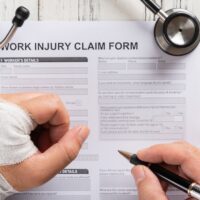 A serious workplace accident is a jarring experience. Injured workers have to deal with their own medical recovery, figuring out if and when they can return to work, and family logistics, all while trying to wade through the workers' compensation claims process. The whole experience can easily become overwhelming. Here, we will try to make the process a bit easier by explaining how workers' compensation works in California. Call an experienced Southern California workers' compensation attorney with any questions or for help with a workers' compensation matter on behalf of yourself or a deceased family member.
What Injuries are Covered?
California law requires all employers who employ workers to provide workers' comp benefits for those employees. Workers' comp is triggered whenever an employee is injured in connection with their performance of job-related duties. That includes injuries or illnesses, both physical and psychological, sustained at the workplace or off-site during the course of performing a job-related duty.
Injuries might not be covered if they were sustained outside of work duties, if they were deliberate, if the employee was doing something illegal, or if the employee was flagrantly violating some safety rule, such as if the worker was intoxicated while working with heavy machinery.
Filing a Claim
If you are injured while on the job, there are a few steps to take to ensure that you are covered by your employer's workers' comp insurance.
● Report the injury to your employer within 30 days.
● Fill out the claim form provided by your employer. Your employer must provide you with a claim form, either in the mail or directly, within one working day after learning about your injury or illness. If your employer fails to give you the form, you can download it from the California Division of Workers' Compensation website. Return the form to your employer.
● Get emergency medical treatment, if necessary. If emergency treatment is not needed, your employer should give you a list of physicians that you can see about your injuries. Go to one of the suggested doctors and seek medical care as soon as possible after the accident.
● If you have any disputes over your coverage or if your claims are denied, file an Application for Adjudication of Claim with the Workers' Compensation Appeals Board (WCAB). Speak with your attorney to discuss whether you should also file an adjudication claim after filing your initial claim. Even if your benefits are being paid, it might still be worthwhile to open a case with the WCAB to preserve your right in the future to challenge any coverage decisions made by the workers' comp insurance provider.
Available Benefits
Injured workers in California can recover five basic benefits:
● Medical treatment costs for injuries sustained while on the job
● Temporary disability benefits if you are temporarily unable to do your usual job while recovering
● Permanent disability benefits if you are unable to recover fully
● Supplemental job displacement benefits in the form of vouchers to help with retraining or skill enhancement if you are to change jobs or careers as a result of a permanent injury
● Death benefits, paid to your spouse, children, and other dependents if a workplace injury turns fatal
GET HELP FROM THE WORKERS' COMPENSATION ATTORNEYS AT INVICTUS LAW AFTER A WORKPLACE INJURY IN SOUTHERN CALIFORNIA
If you have a claim for workers' compensation and want to ensure you get the maximum available coverage, call Invictus Law today at 949-287-5711, and speak with an experienced California workers' compensation attorney to evaluate your claims.