Can I Get Workers' Comp with a Failed Drug Test?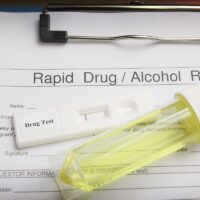 If you are familiar with workers' compensation in California, you likely know that workers' comp is guaranteed for any worker injured on the job in California, with very limited exceptions. Workers who injure themselves on purpose, who injure themselves while doing something illegal (such as starting a fight), or who are hurt while performing non-work duties outside the workplace may not get workers' comp coverage. Additionally, you may have heard that workers who are injured while under the influence of drugs or alcohol at the workplace might lose out on workers' comp protections. Does that mean that workers who fail a drug test are automatically disqualified from workers' comp? Read on to learn how a failed drug test could affect your workers' comp coverage, and call a compassionate and effective California workplace injury attorney if you've been hurt on the job in Southern California.
The Intoxication Exception
Employers in California must provide workers' compensation insurance coverage for all of their employees. Workers injured at the workplace or while performing workplace duties are covered, with limited exceptions. Workers' comp insurers and employers are often on the lookout for any reason to deny a claim, hoping to expand those narrow categories of exception. With good cause, insurers can deny coverage where an employee was intoxicated at the time of the injury.
To deny a claim based on intoxication, however, it is not sufficient to demonstrate that the worker has been intoxicated at some point in their life. Rather, an employer or insurer must prove two things:
The employee was intoxicated (either through drugs or alcohol) at the time of the workplace injury, AND
The intoxication contributed to or caused the injury to occur.
A Failed Drug Test Alone is Not Enough
Given that an employer or workers' comp insurance provider must show both that the employee was intoxicated at work and that the accident resulted from that intoxication, a failed drug test is not, by itself, sufficient grounds to deny workers' comp. A drug test taken after a workplace accident might contribute to an employer's attempt to deny coverage, but even then they would have to prove that the worker was intoxicated at the time of the accident and that the accident resulted from intoxication.
A failed drug test on a day other than the accident should provide no evidence to counter a workers' comp claim. Likewise, if an accident was clearly caused by something other than the workers' conduct (such as if they were hurt through the negligence of another worker), then a failed drug test even on the day of the injury will not disqualify a workers' comp claim.
Additionally, employers have a limited amount of time after an accident to conduct a drug test. They will likely move to conduct a breathalyzer, urine, or blood test as soon as possible after an accident to preserve their argument. If they wait too long, however, they lose the chance to test the worker at all in relation to the claim–they have 12 hours after an accident to conduct a drug test in order to use it against a workers' comp claim.
EFFECTIVE LEGAL HELP FROM THE SOUTHERN CALIFORNIA WORKERS' COMPENSATION ATTORNEYS AT INVICTUS LAW
If you have a claim for workers' compensation and want to ensure you get the maximum available coverage, call Invictus Law today at 949-287-5711, and speak with a seasoned California workers' compensation attorney to evaluate your claims.